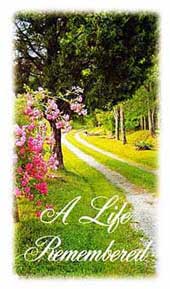 Designing your cards
Choose a layout style
Choose a prayer or verse from our selections or use your own prayer, poem, personal words or obituary.
Choose a card image for the reverse side of the card
Write down the above choices and fill in the the order form
Itís that easy!
Welcome to Memorial Print We specializing in personalized laminated memorial tribute or remembrance cards featuring contemporary and nonsectarian cards, and traditional religious prayer cards, also known as mass cards or holy cards.
Memorial cards are a lasting and befitting tribute to a departed loved one, and can be fully personalized with your own words, poem or eulogy, an optional color or black & white photo of your loved one, or even a full color photo or custom designed front. This web site contains a large library of poems and prayers, and a wide selection of both imported and USA high quality prayer cards. With more than 16 years on the web we also guarantee the lowest prices available anywhere and fast reliable service with low cost shipping.
Please use the menu on the top of each page to find and design your memorial card. Memorial prayer cards are the perfect keepsake to distribute during funeral wakes or visitations, memorial services and church services. Alternatively, memorial cards are often included in 'thank you' cards after the funeral or memorial service, and to send to those unable to attend.
With as little as 24 hours notice, sometimes even less, rush orders are available to have your memorial cards delivered in time for visiting hours, church services or memorial gatherings anywhere in the USA by FedEx at heavily reduced shipping rates, often more than 50%. Non-urgent orders are processed and consigned by flat rate Priority Mail (with tracking and insurance) within 48 hours from order approval. In fact, after we receive your approval of the actual card layout that we prepare and email to you, most orders are printed, laminated and packed for shipping within just a few hours.
A traditional prayer card, holy card, or mass card usually has a religious image on one side, and on the reverse side your loved one's name, dates of birth and passing, and a befitting prayer or poem. A color photo may also be added if desired. Alternatively, with our large range of nonsectarian and custom designed cards, memorial cards without religious themes are a lasting tribute and celebration of a life well lived. Obituaries, funeral or memorial service details, and final resting place, can also be used along with shorter verses or prayers.